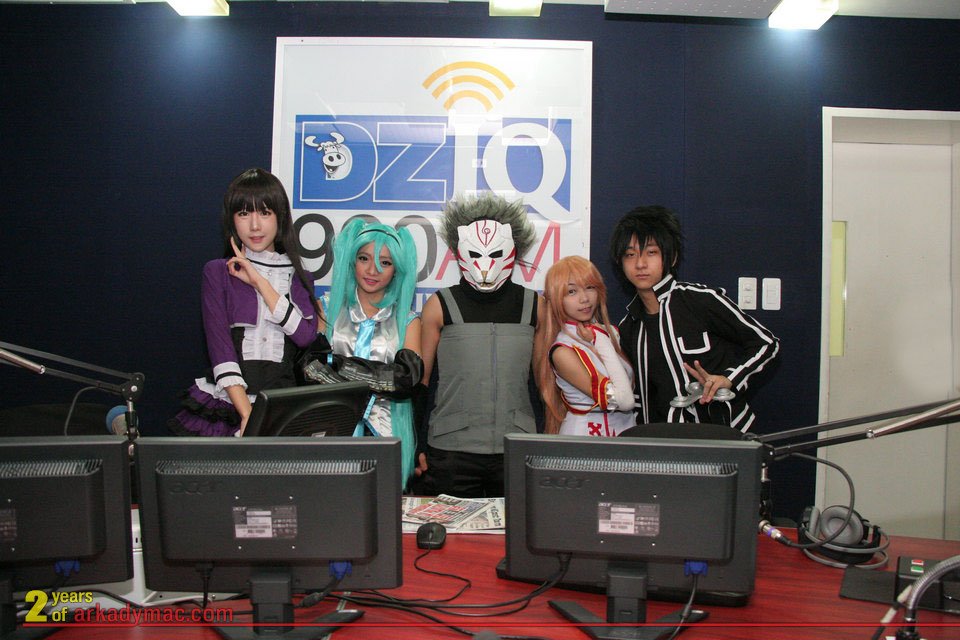 It was a big day for arkadymac.com as we got featured at DZIQ Radyo Inquirer 990 AM last weekend in celebration of our second anniversary.  The panelists were made up of Creative Director, Xtian Mack, along with our Cosplay Models Mina Kim, Keileen, Queenie and Deric.  The guesting was a first for most of us so were all as anxious as we were excited to be able to share our views on cosplaying on air with a wider audience.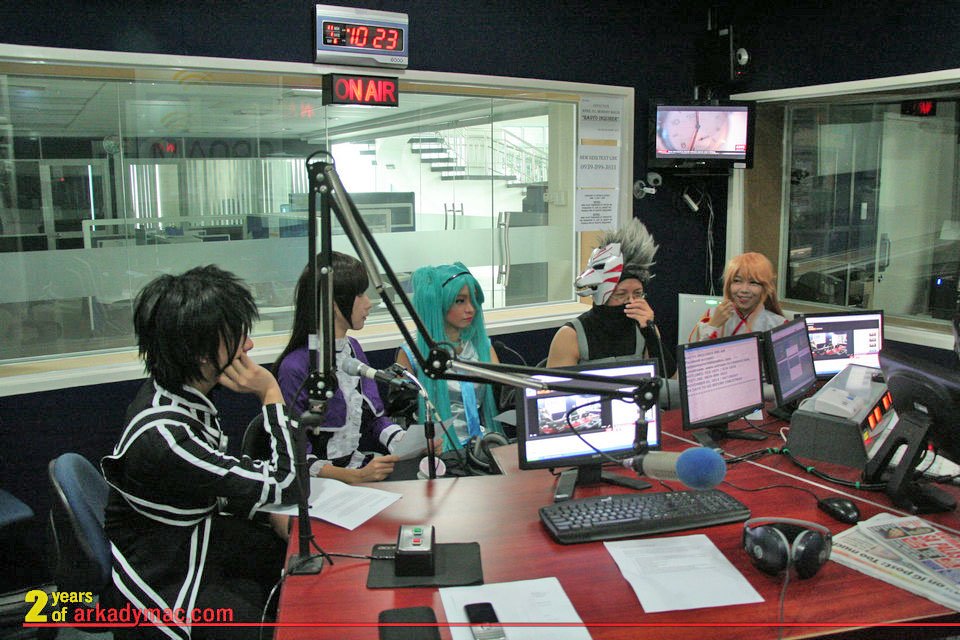 It got a bit tense when the program started, but we eventually settled in to the topic at hand.  We all love cosplaying after all, so we didn't have a problem expressing what we felt about the subject.  It turned out to be an hour of fun, entertaining, and enlightening talk about cosplaying in the Philippines and cosplaying as a hobby that people can enjoy and be passionate about.  Our Cosplay Models got to share their own experience about cosplaying, like their preference in characters and how they prepare their cosplays.
Thank goodness for commercials as they gave us brief breathers and some chance to goof off.
The program also touched on how cosplay changed the lives of our models, of how cosplay has helped them gain their self esteem and how cosplay has opened opportunities for them to have more friends and have a wonderful time with them.
We also got to discuss how cosplaying has contributed and has given back to the community through charity work. arkadymac.com has in its two years of existence participated in and helped with numerous fundraisers for charitable institutions. We have also covered and participated in feeding programs, hospital and orphanage visits where we got in touch with children and helped bring smiles to the people who need them the most.
After the program we had a short photoshoot for some memories from a particularly special day for our small arkadymac.com family.  We then had lunch at a nearby restaurant, all with a healthy appetite.
We couldn't have gotten these opportunities if it weren't for the love and support from you, our valued readers, in helping us through these two years.  We really, really appreciate it.  We are glad to have reached our second year of bringing the best of cosplaying in the Philippines, and we hope you can keep on supporting us for more years to come.
Thank you for dropping by, and please visit us again for more features here at arkadymac.com
About The Author