The Best Of Anime 2023 To Feature Impressive Guest Lineup, Exciting Activities And More This September 16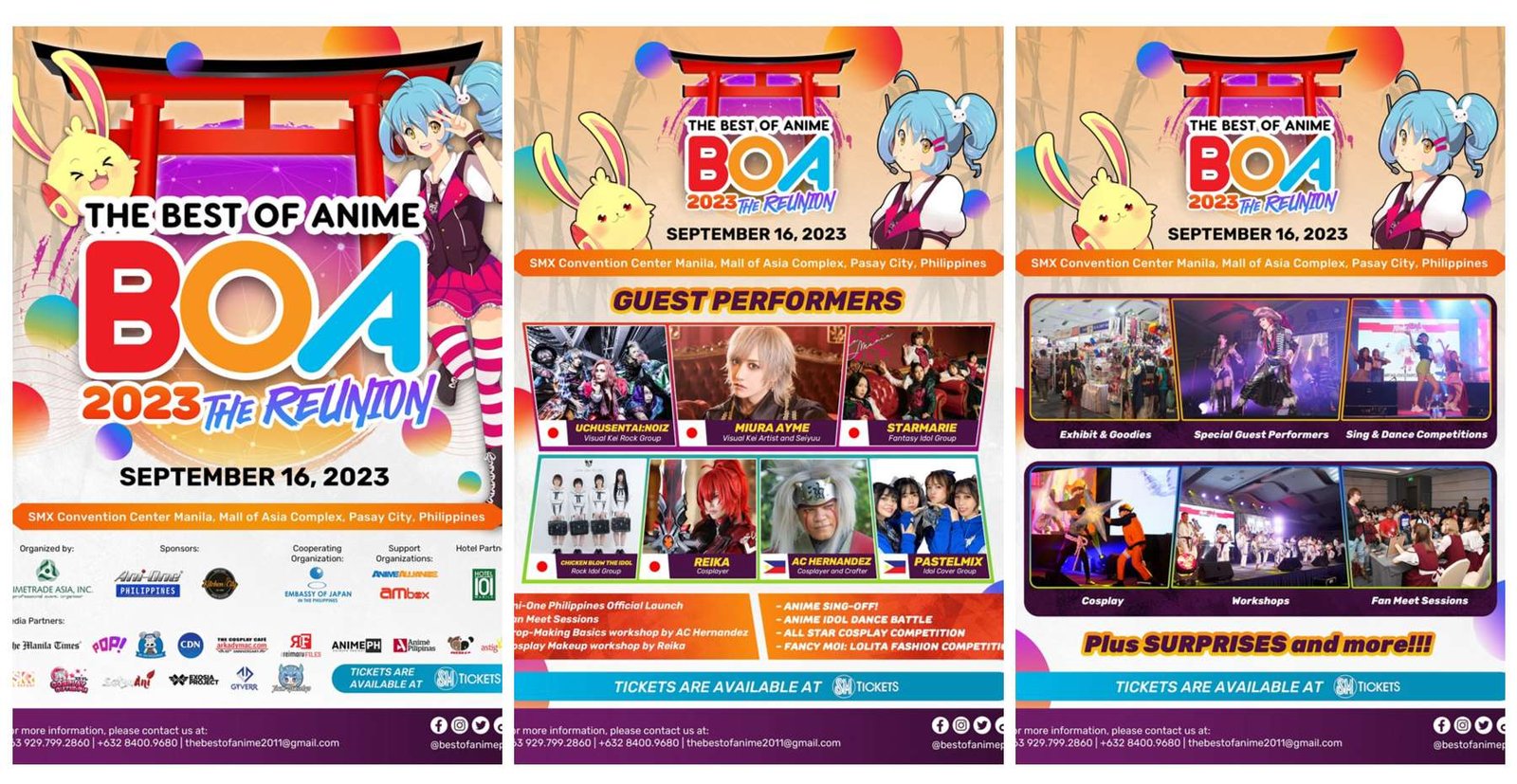 Japanese visual kei singer Miura Ayme performing for the first time, Cosplay Workshops and Competitions in store, plus the Official Launch of Ani-One Philippines!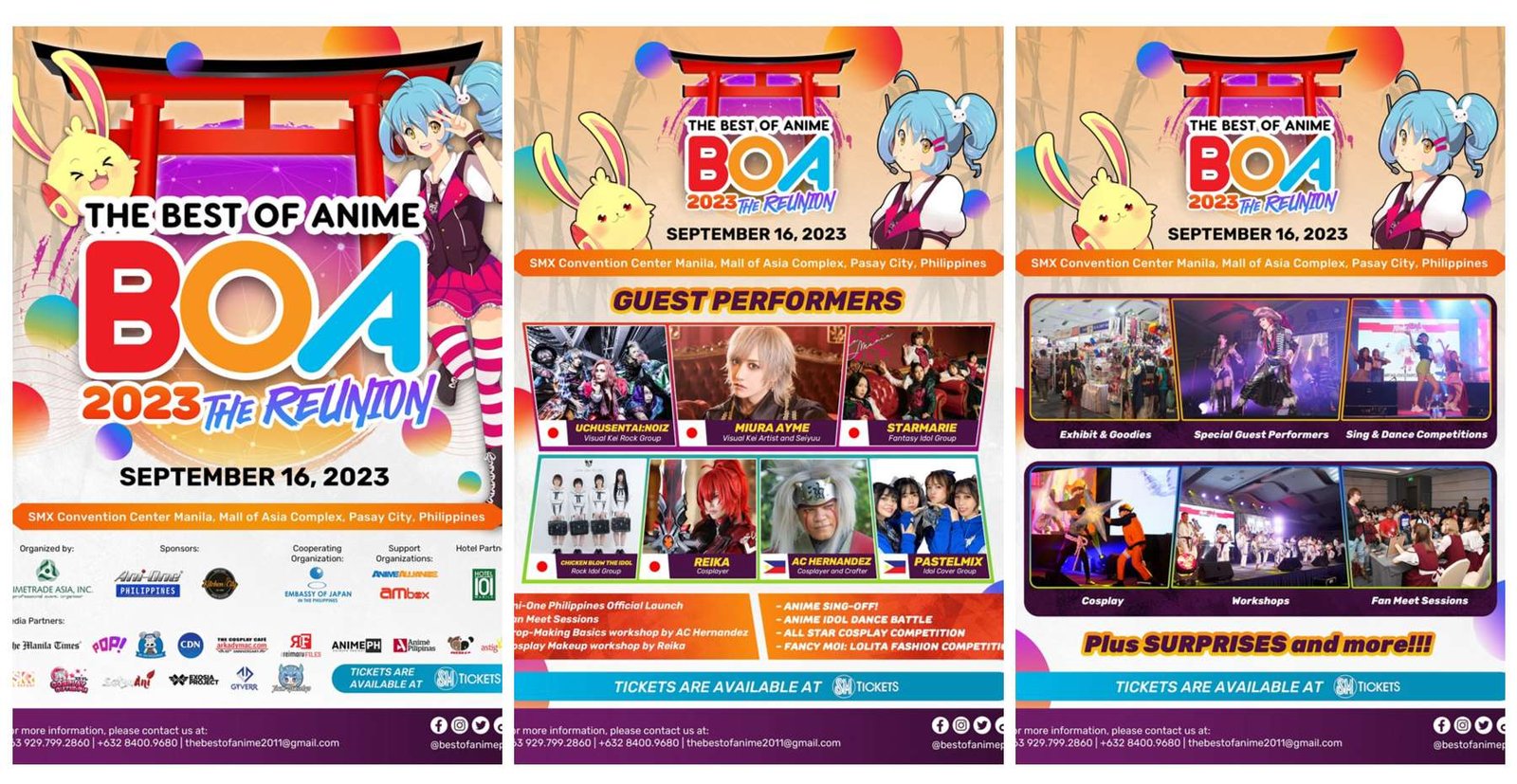 Spanning more than a decade of pleasing anime and cosplay fans in the country, The Best of Anime (BOA), one of the biggest and recognized Japanese anime and pop culture conventions in the Philippines, will be making its big return on Saturday, September 16!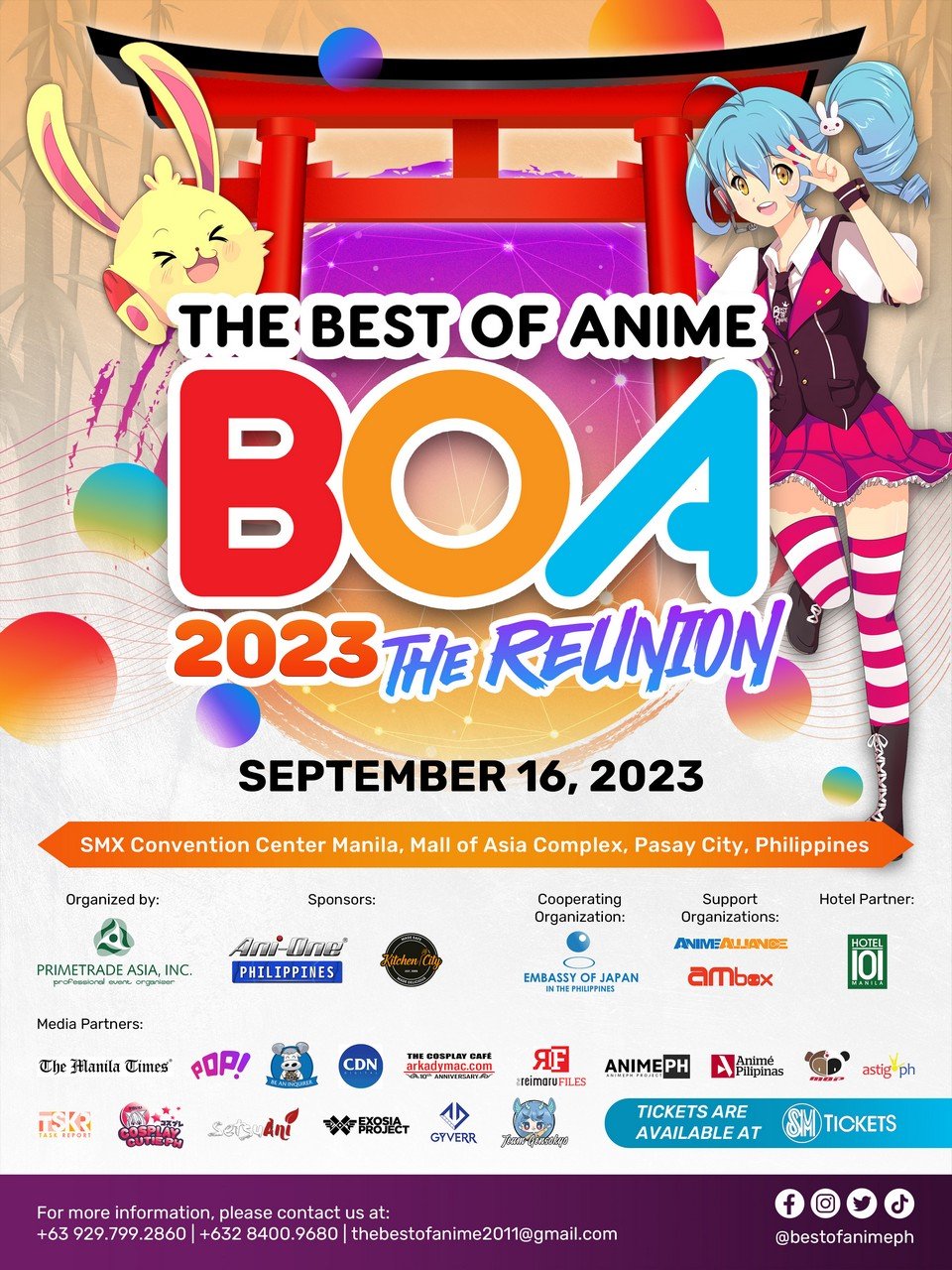 This year's event will be known as The Best of Anime 2023: The Reunion, aims to thrill its loyal patrons and all anime fans with entertaining activities and outstanding performances, as well as looking back on memorable moments, after three years of hiatus due to the pandemic.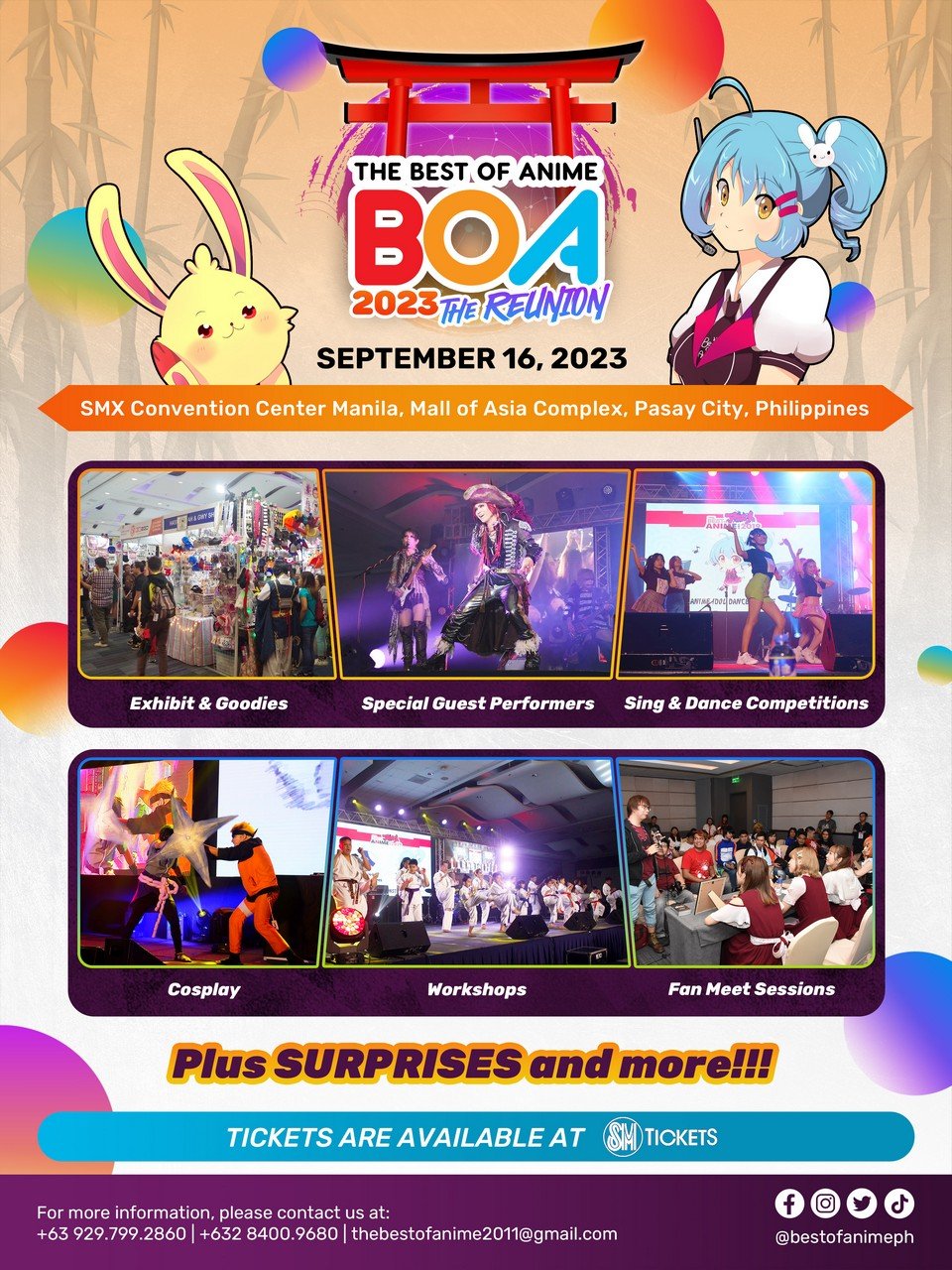 BOA2023 showcases a full lineup of returning and fresh musical performers The Best of Anime 2023 will be showcasing an impressive lineup of musical acts that will entertain everyone, because we are bringing back our all-time favorite performers, as well as fresh new acts!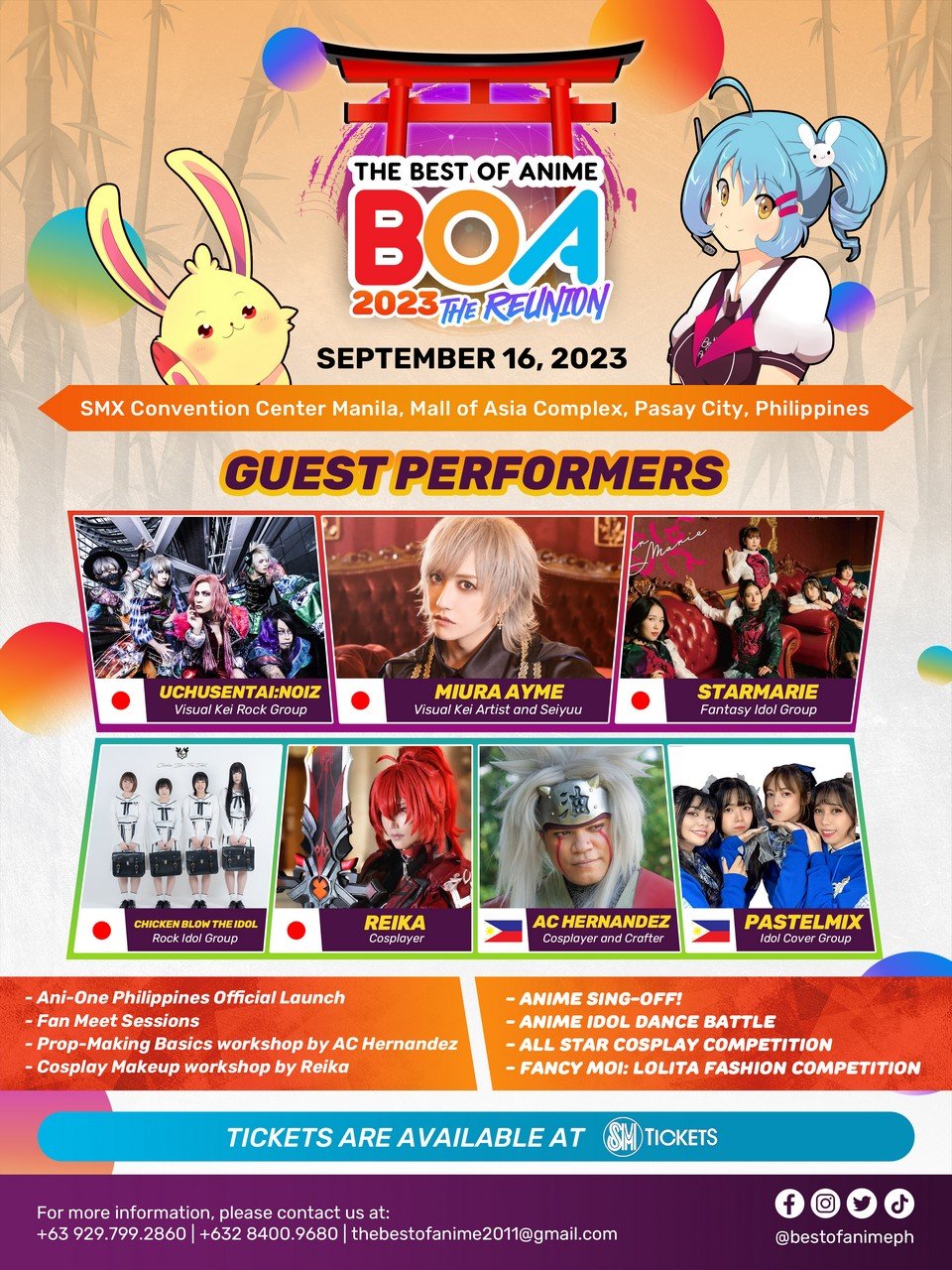 UchuSentai:NOIZ is known for their eccentric and unique outfits, as well as its highly-energetic music and live performances. They are currently composed of ANGEL-TAKA (lead vocals), MASATO (guitar and vocals), KOTARO (guitar), KYO (bass) and YAMATO (drums), and currently holding their 20th anniversary tour across Japan. The band was well-known in the country for performing covers of popular Pinoy songs such as "Narda", "Liwanag sa Dilim" and "Pinoy Ako", and they became part of the ABS-CBN reality talent show "I Love OPM" in 2016 where they reach quarter-final stage. UchuSentai:NOIZ first appeared at The Best of Anime in 2012 and has been part of the event four more times.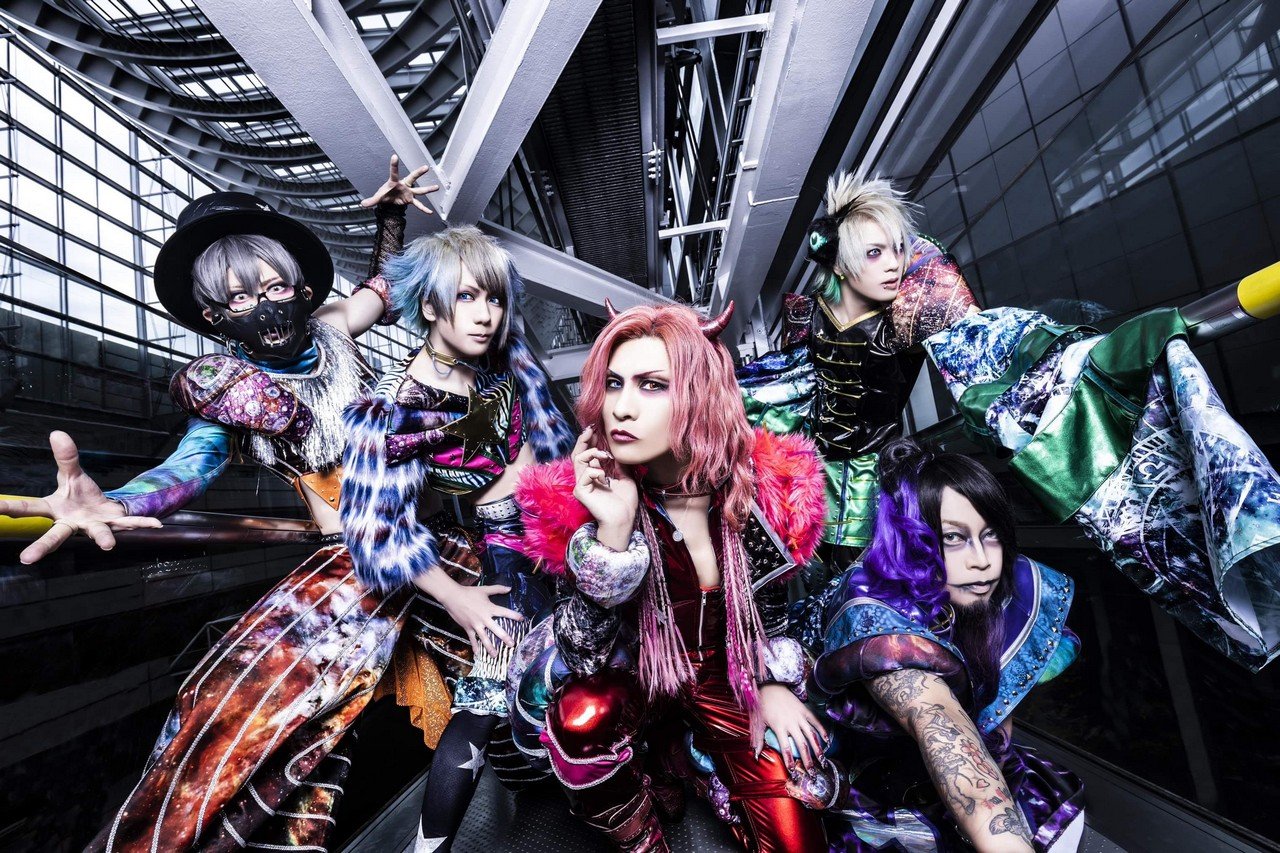 Starmarie is a Japanese idol group known for their music and charm that had mesmerized its loyal fans since 2008. The group is currently composed of Nozomi Kishita, Shino Takamori, Hiroka Matsuzaki, Maya and Monya Nakane. The group has released four albums and 12 singles, as well as performing ending theme songs to Cardfight!! Vanguard G and Cardfight!! Vanguard G NEXT in 2015 and 2017, respectively. Starmarie first appeared at The Best of Anime in 2013 and has been part of the event five more times.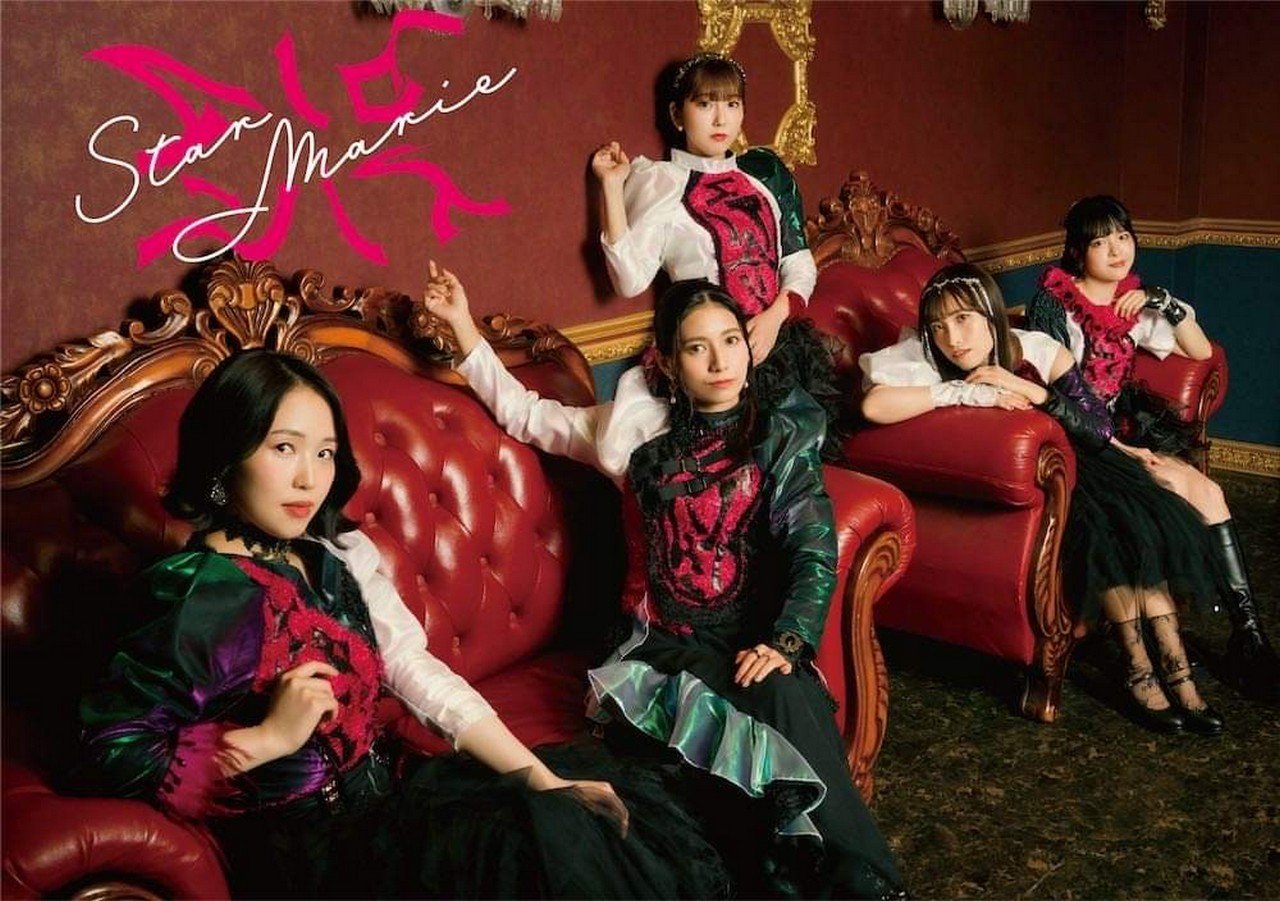 Miura Ayme is the former lead singer of the visual kei rock band Ecthelion from 2013 to 2015, and then started his solo career in 2018. In 2019, he was chosen to be the voice of "Asmodeus" in the otome video game and anime series Obey Me!, as well as singing its opening theme songs as member of the Obey Me! boys. He has travelled to perform in different countries across the world, including United States, Germany and United Kingdom, and this will be his first time in the Philippines.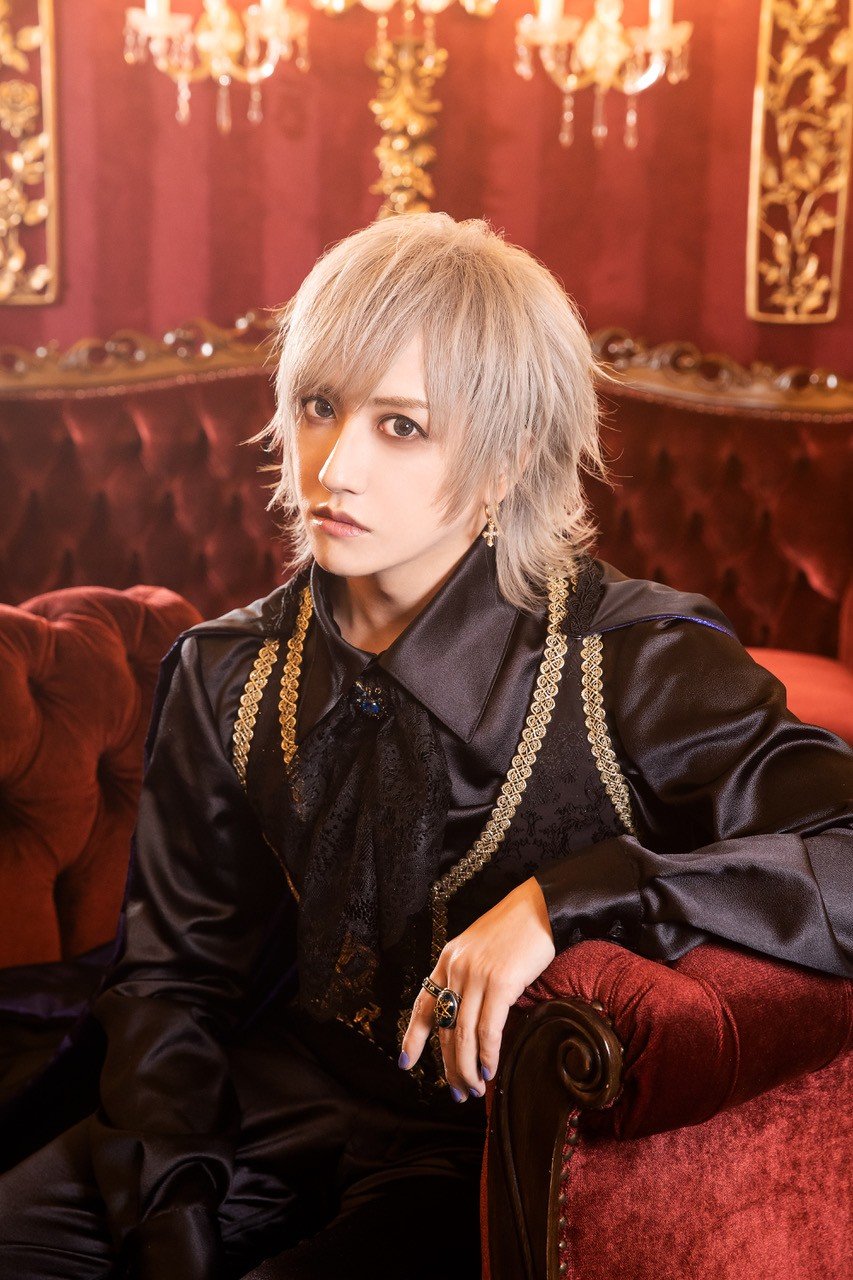 Chicken Blow the Idol is a Japanese rock idol group first started in 2017, which has been re-formed in 2022 featuring Kazahana Assa, Touwa Mayoi, Akari Mikan and Tsubomi Ruko. The group goes with the theme of shy and timid girls becoming idols on stage and using music as their weapon of choice, combining the concepts of a weak punch (also called a "chicken blow") with school uniform-like costumes and a youthful rock music.
Pastel Mix is a J-pop cover idol group based in Davao City, performing various songs from popular idol groups such as AKB48, Love Live!, Walküre, Babymetal and more. The group started as "Nyan nyan" in 2008 as a cover group of the popular Japanese girl group Buono, but has expanded and reformed two years later. The group first performed in pop culture events in Mindanao, but has gained popularity after their performances all over the Philippines and earned a legion of loyal fans.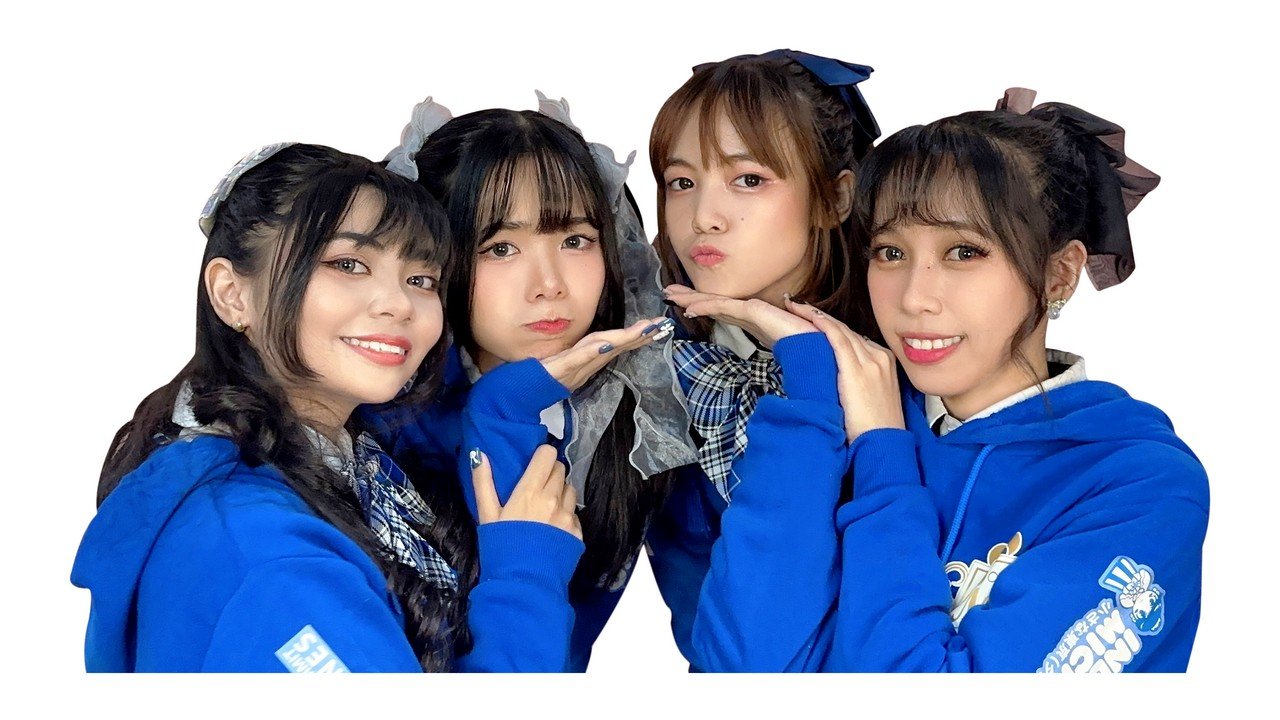 BOA2023 offers Cosplay workshops, Competitions, plus other surprises!
Aside from its musical acts, The Best of Anime 2023 also offers different kinds of activities throughout the day that will surely be worth your time, from Cosplay Workshops, Fan Meet sessions, Singing, Dancing and Cosplay competitions, plus more surprises in store!
World Cosplay Summit Philippines alumni AC Hernandez will share his knowledge and expertise in making sword prop making using common materials, from patterning to construction. He will talk about why do-it-yourself props for cosplay is better in the long-run. Hernandez is one-half of the group "Team Namikaze" with Jin Joson, who won Brother Award for Best Costume, which is considered as one of the major cosplay awards, at the WCS in Nagoya, Japan in 2021. You can catch AC Hernandez as he talks about his experience and skills learned on his Cosplay Talk on-stage, as well as going in-depth on basic sword prop making at "WCS Philippines Alumni Corner: Prop-Making Basics – Swords" cosplay workshop!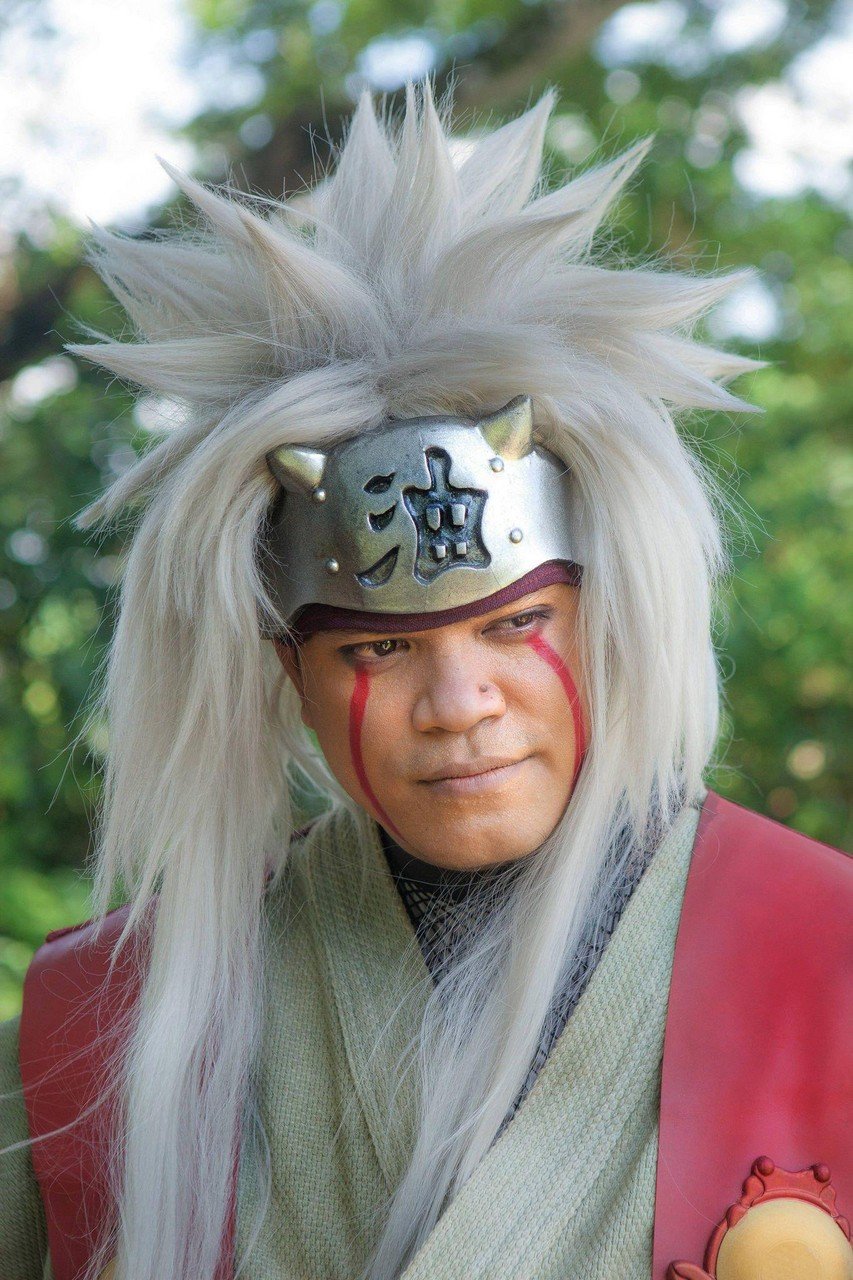 Reika, a renowned Japanese cosplayer with over 1.4 million followers on Facebook and over 210 thousand followers on Instagram, is set to make her return to BOA2023. She is one of the top cosplayers from around the world, creating over 600 accurately-detailed costumes of popular characters from Japanese anime, video games and more, and has been invited to be part of popular anime and pop culture conventions in over 50 countries around the world. You can catch Reika at BOA2023 as she holds a workshop and teach everyone how to properly use make-up in cosplay to your advantage at Cosplay Make-up Workshop!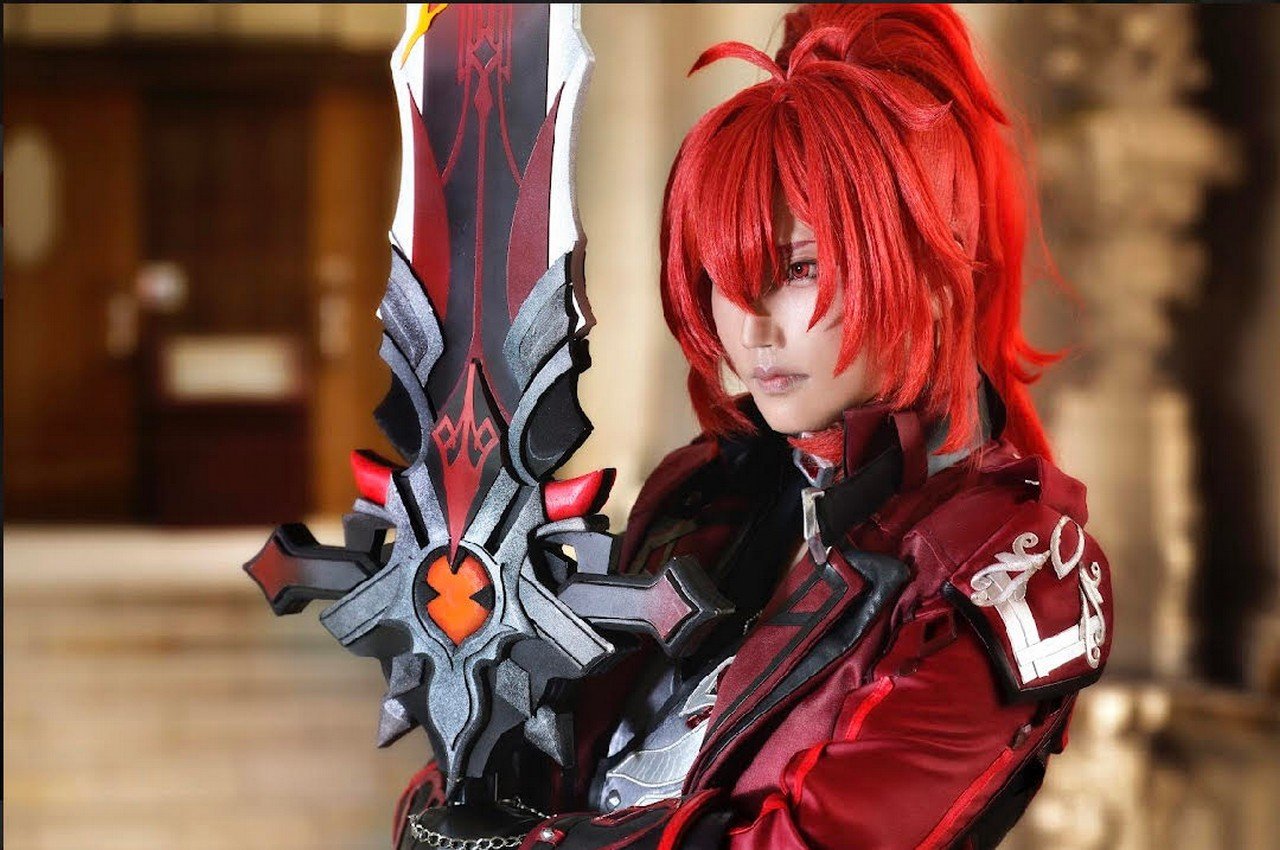 In addition, Vis Eterna, a group of martial artists and Japanese sword art enthusiasts, will hold a Japanese sword training experience, teaching everyone the basics of handling a "Bokuto" (Japanese wooden sword) properly, and how to use them in your cosplay performance! There will also be an Emergency Cosplay Repair area, just in case you need adjustments in wear-and-tear in your cosplay outfits.
After receiving multiple entries, the finalists of The Best of Anime 2023's Anime Sing-Off, Anime Idol Dance Battle and All-Star Cosplay Competition will finally face each other and decide who will be this year's champion.
The Lolita fashion design brand Fancy Moi will also decide who has the most creative and unique designs on the cosplay catwalk in Fancy Moi: Lolita Fashion Competition. Winners for each competitions get the chance to win a cash prize, a plaque of recognition from BOA2023 and gift tokens from sponsors and partners!
And lastly, a very exciting news for all anime fans, because ANI-ONE PHILIPPINES is launching at The Best of Anime 2023!
Ani-One, the anime streaming platform of Hong Kong-based content distributor Medialink Entertainment Limited, is set to launch its newest branch catering to every Filipino anime fan, offering the best and fresh titles, such as Code Geass, Millionaire Detective Balance UNLIMITED, Strongest Sage with the Weakest Crest and more, in Filipino subtitles. Soon, they will offer anime content in Filipino dubbing.
Ani-One Philippines official launch will feature exciting announcements, special raffle to lucky fans in attendance, and more surprises in store! In addition, they will also sell official and licensed merchandise of their popular properties courtesy of Sunrise Pops!
Around 30 exhibitors to showcase products and more!
An anime and pop culture event will not be complete without its exhibitors, which is why The Best of Anime 2023 is proud to showcase around 30 exhibitors who will be part of the event, such as Aezer Enterprises, AXGG, Dark~Sweet~Soul, Fancy Moi, FiberFairy Pilipinas, GMA Store, Infinus Corporation, Kawaii Art Circle, Kentaro Collectibles, KFB Web Development Services, Micari, Minty Jade Studio, MOERU, Mugiwara Shop Clothing, Project Okaeri, Settohime x Caviteatas, SPLATT MNL, The Costaku Shop and YABAII, among others!
We will also be featuring several artists and illustrators on our artist alley, including Bebecats, Dankreationz, Franberry Art, Gummy Studio, Hannabi Art Store & Abunnypunny Arts, Isabelbobelart, Kannalii, Nandemocreative X Random Artist, Sana Own, Satomirin X Shuwappy X Buggy Blue Crafts, Sinners' Bakery, Skekaaa and Stacey Burgos!
The Best of Anime 2023: The Reunion is on Saturday, September 16, 2023, at Function Rooms 1-3 of SMX Convention Center Manila, Mall of Asia Complex, Pasay City. This event is organized by Primetrade Asia, Inc. You can buy your tickets in advance online through SM Tickets through this link: smtickets.com/events/view/11993.
Main Sponsors: Ani-One Philippines, and Kitchen City
Cooperating Organizations: Embassy of Japan in the Philippines, Anime Alliance Philippines, and Ambox
Hotel Partner: Hotel 101 Manila
Official Media Partners: The Manila Times, Inquirer POP!, Be An Inquirer, CDN Digital, Arkadymac.com, Reimaru Files, Monkey8Panda, Anime Pilipinas, AnimePH Project, Cosplay Cutie PH, Astig.PH, Exosia Project, Setsu-Ani, TSKR – Task Report, Gyverr, and Team Gensokyo.
For the latest updates regarding The Best of Anime 2023, please follow us on our social media platforms:
facebook.com/BestOfAnimePH
twitter.com/BestOfAnimePH
instagram.com/BestOfAnimePH
threads.net/@BestOfAnimePH
For more information on participation, sponsorship and collaboration, please contact Primetrade Asia through email at thebestofanime2011@gmail.com, or contact Lanie Desor or Rho-Anne Vinluan at (+632) 8400-9680 and (+632) 8896-0682.
arkadymac has been a media partner for The Best of Anime since 2014, so we hope to see you there as we have a special coverage of the event.
BOA2023 #TheBestOfAnime2023 #BOA2023TheReunion