After her radio talk show appearance at Radyo Inquirer DZIQ 990 and just before her special guest appearance at Otacon with the arkadymac.com team, Mina went with us on a short detour for a quick shoot at a place she had never been before somewhere south of the Metro.  Earnestly curious and inquisitive, she took time off exploring this unique Japanese enclave hidden in the heart of the city.   In between snaps she tells us how her life has been one fun and exciting journey since she began cosplaying, with warm and fond memories she'll keep for lifetime.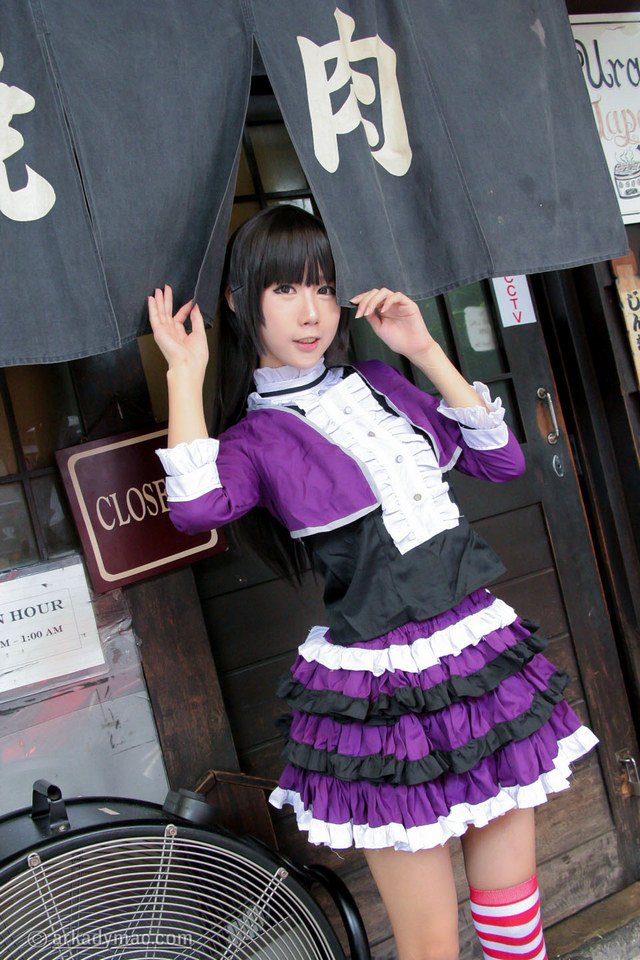 Mina tells us her adventures may have had begun in her heart when she was a little girl in her native Seoul, South Korea.  "I visited a theme park one day and saw one of the cosplayers working there dressed up as my favorite character.   I still can't forget the feeling of awe when I saw that unbelievably beautiful cosplayer. It was like my fantasy had come to life."   She remembers feeling wonderful and amazed at that time, that brief episode leaving a deep, lasting impression on her.
She began cosplaying a couple of years ago after a friend took her to an event.  She had always loved to, but always been shy to cosplay, but she was so taken by the experience that she decided to cosplay Kyou, a character from the manga Shinigami no Kyou at the very next event she went to.  Since then she had enjoyed going to cosplay events as much as she could. It is easy to see how she stands out amongst the crowd.  Coupled with her cheerful and bubbly disposition, she became an instant favorite, posing tirelessly for the many people who wish to take pictures of her and with her.
Her boundless energy and peerless charm had taken her far.  We chose Mina to be one of arkadymac.com's Cosplay Models, with several features already on the website.  She earned one of the top honors at Marble Wonderland last year despite it being her first competition.  She got to take part in great photoshoots.  She had been asked to judge cosplay competitions.  She had been with us on a radio program with our arkadymac.com team.  She had been invited for special guestings at events.  Just recently she was chosen as a Brand Ambassadress by WarGods Internet Cafe.
2015 started out a hectic year for Mina as her time had been spent on her priorities.  "I  made myself busy with my life, studies, friends, and hobbies."   She told us that except for a few photoshoots and events, she hadn't gotten the chance to cosplay much since the year started.  "But I will be back really soon," she assures us with a wide smile.  "This year I wanna start everything anew!  With a good mindset I hope to be more mature than last year. This is what I want for this year."
Despite her success, Mina says she is surprised but very happy that her efforts are being recognized by others and that she had made a lot of good friends through cosplaying.  To them she wants to say:  "Its a new year!  I know it's too late to greet but still i wish everyone is having fun and enjoying their lives.  I feel sorry when I can't repay everything I've gotten from others, but I still feel thankful for the love.  I miss you guys!  I don't know if you guys are still there for me, but I still love you guys."
We hope you can continue to support Mina with us as she sets out on another fun year of cosplaying.
Thank you for visiting our feature on our cosplay model Mina Kim, and do drop by again for more cosplay news, people and events here at arkadymac.com.
About The Author