Upcoming Event: Natsu Matsuri 2023 by Ateneo Hinomoto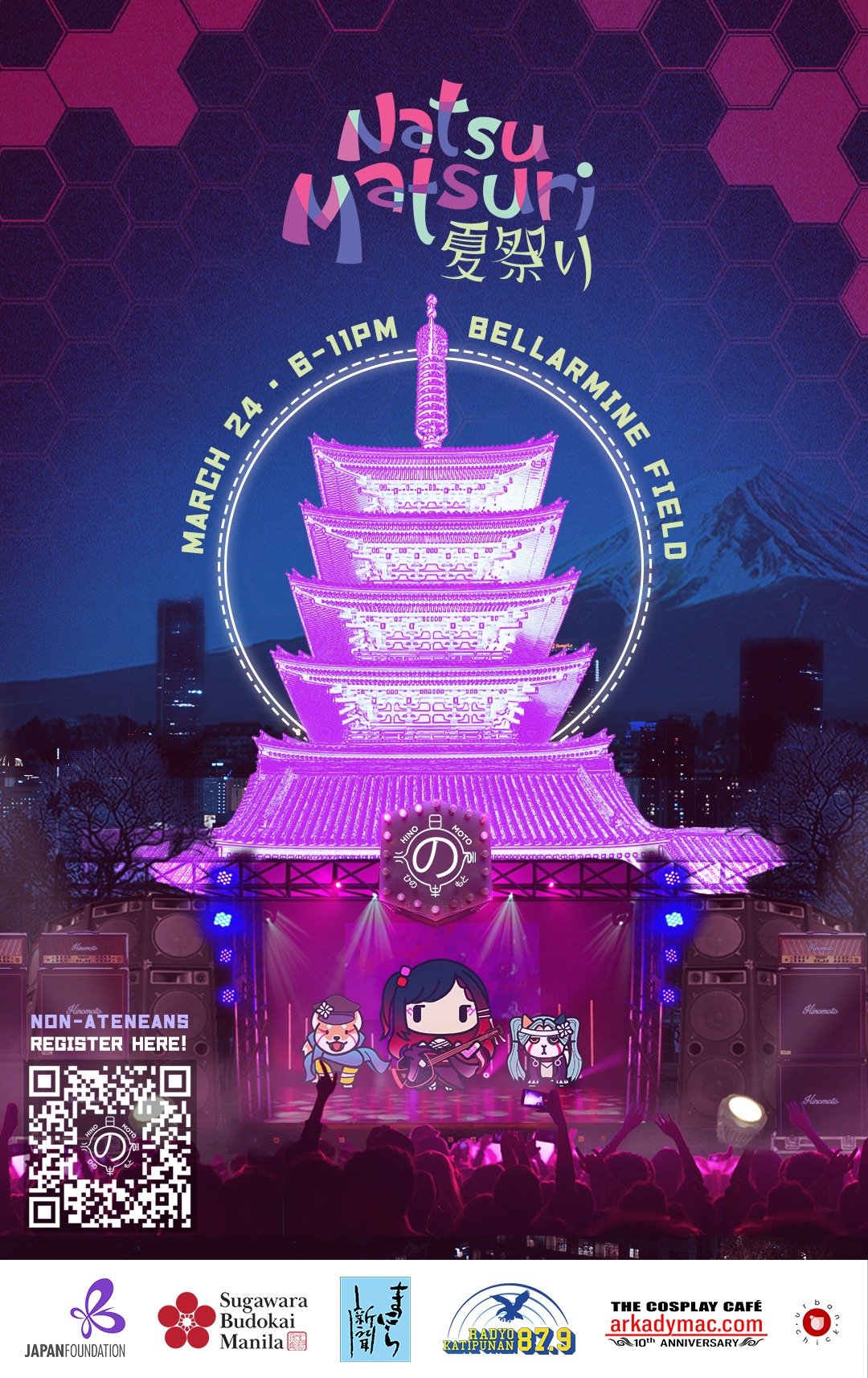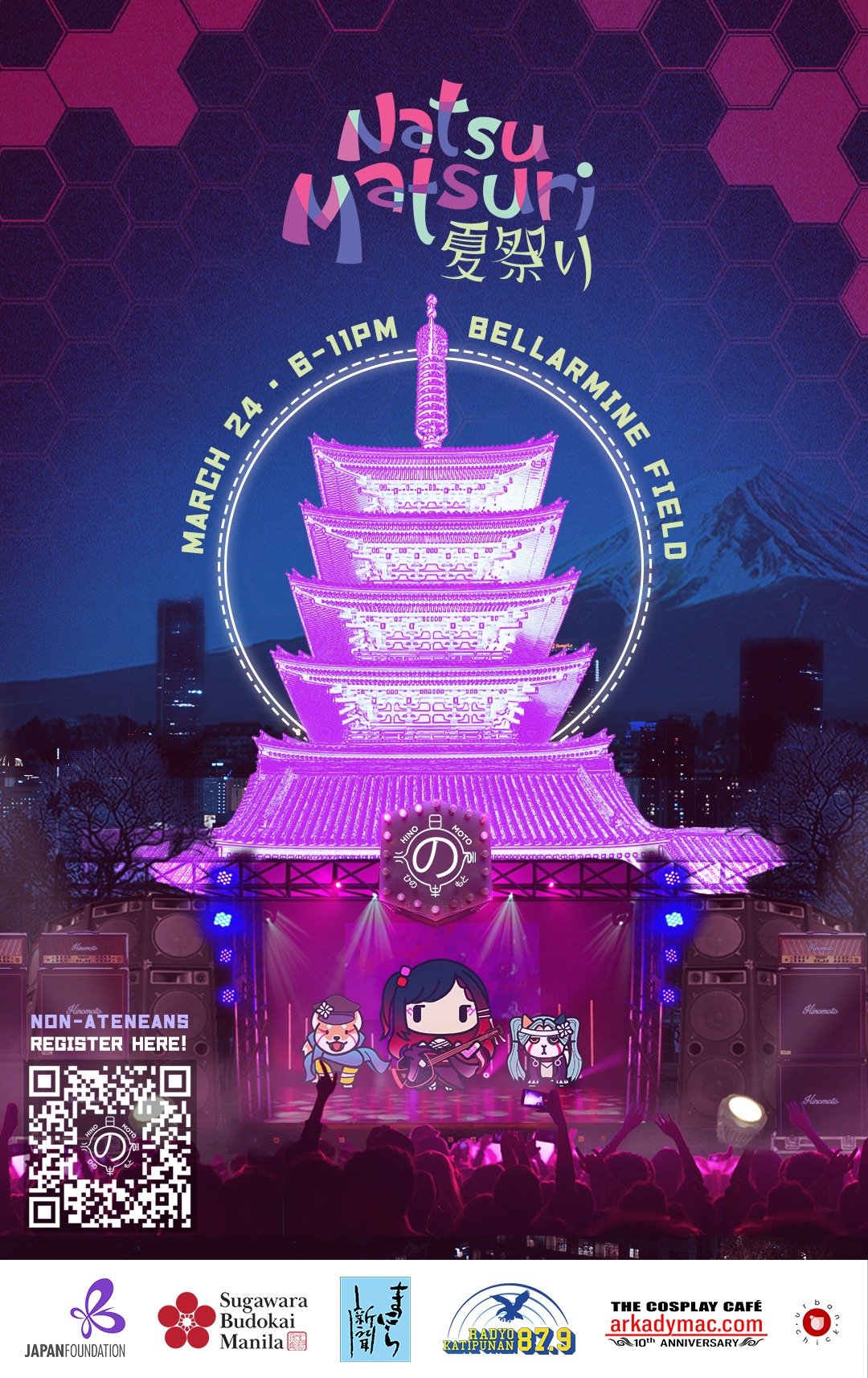 Ateneo Hinomoto invites everyone to celebrate summer under the stars as it brings back its yearly glimpse into Japanese summer festivals with Natsu Matsuri 2023: Shinden. This will be a one-night fair which mixes the traditional and modern cultural scenes of Japan at Ateneo de Manila University's Bellarmine Field this coming March 24 from 6 PM to 11 PM. Entrance is absolutely FREE!
This year's Natsu Matsuri will feature Japanese carnival game booths made by Hinomoto themselves, merchandise stalls of the organization's partner artists and companies, and performances by various Japanese enthusiasts.
Grab a bite from the food stalls serving delicious Japanese snacks such as Aji Burger and their signature sandwiches, while walking around the festival grounds in your outfit of choice, whether it be yukata from Natsu Matsuri's rentals or your most traditional-looking cosplay (normal clothes are fine too!).
Watch the electrifying performances of aspiring music groups including that of fan-favorite Project: MATERIA, or of cultural groups like Sugawara Budokai Manila who will be demonstrating the Tenshin Shoden Katori Shinto Ryu, one of Japan's martial art systems.
Test out your aiming skills at the shateki range and the wa nage ring toss, or try your luck in scooping goldfish at the kingyo-sukui and catching balloons at the yoyo tsuri. Or, if you're feeling especially lucky, pick a string at the senbonbiki – who knows what prizes you may find!
Tickets for these booths will run on a chit system, where money can be exchanged for tokens for a set number of plays. Other than the games mentioned though, you can also have your fortune read at the tarot or omikuji booths.
Remember to also have a memento for the night by taking a picture with your loved ones at the photo booth, or snag yourself some Hinomoto merchandise and other cool pieces brought by the various talents joining the artist alley.
Entrance is free, so come and enjoy a taste of Japan in the Ateneo. Non-Atenean students and faculty are required to register online to enter the campus and the festival venue this school year. For registration and event guidelines, follow Ateneo Hinomoto's official Facebook page at fb.com/ateneo.hino.
Natsu Matsuri 2023 has been brought to you by The Japan Foundation Manila and Sugawara Budokai Manila, and Urban Chicks Resto Maginhawa, as well as their media partners The Daily Manila Shimbun, Radyo Katipunan, and arkadymac.com.
Hinomoto is the premier Japanese language and culture organization of Ateneo de Manila University with two central goals: to promote excellence through Japanese language proficiency, and to develop awareness and appreciation of Japanese culture through projects that give participants hands-on experiences of it such as Natsu Matsuri.
Like and follow, and keep updated with their social media:
facebook.com/ateneo.hino
twitter.com/AteneoHinomoto
arkadymac.com is proud to have been the media partner for Natsu Matsuri since 2017, so we hope to see you there as we have a special coverage of the event.